Product Details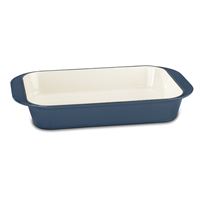 Cuisinart Chef's Classic™ Enameled Cast Iron 14" Roasting/ Lasagna Pan
(PRE-CI113624BG)
13,981 Points
Cast iron improves its solid reputation with Cuisinart® Chef's Classic™ Enameled Cast Iron cookware! Home chefs can explore different cooking methods – from searing or grilling in the pans to slow braising or simmering in the casseroles. With incredible heat retention and even heat distribution, these versatile pieces yield great results whether it's on the stove or in the broiler or oven. They also can go from oven to table and double as elegant serving pieces! Merchandise usually ships within one week of order.
Please log in to add this item to your shopping cart or wishlist.

My Account | Use Points | About the Program | Contact Us
© 2019 RewardsNOW, Inc. All rights reserved.