Product Details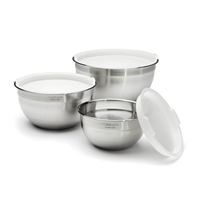 Cuisinart Stainless Steel Mixing Bowls with Lids
(PRE-CTG-00-SMB)
6,583 Points
Cuisinart stainless steel mixing bowls nest to save space and have lids to store leftovers in the refrigerator or freezer. Three sizes handle any task that requires a bowl.Merchandise usually ships within one week of order.
Please log in to add this item to your shopping cart or wishlist.

My Account | Use Points | About the Program | Contact Us
© 2019 RewardsNOW, Inc. All rights reserved.