Product Details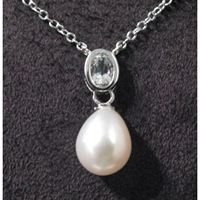 White Topaz & FW Pearl Pendant
(PRE-D-1500035)
29,077 Points
**THIS IS A CUSTOM JEWLERY PIECE AND WILL TAKE SIX WEEKS TO MANUFACTURE AND SHIP. For centuries pearls and topaz have brought prosperity, good health, and happiness to their bearers. This strikingly large freshwater pearl drops from a faceted colorless topaz stone. It slides freely on the 18" long sterling silver cable chain.
Please log in to add this item to your shopping cart or wishlist.

My Account | Use Points | About the Program | Contact Us
© 2019 RewardsNOW, Inc. All rights reserved.