Product Details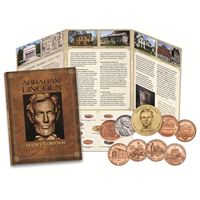 Lincoln Legacy Collection
(PRE-D-C0025)
7,587 Points
This collection features 9 coins spanning more than 100 years of Lincoln history on U.S. coins. President Lincoln was the first president to be featured on a circulating coin, the first to be featured on both the obverse and reverse of the same coin, and he is an American icon like no other. We''ve surrounded the 2010 presidential $1 coin featuring our 16th President, with 8 historically significant coins all featuring Lincoln. Merchandise usually ships within 10 business days of order.
Please log in to add this item to your shopping cart or wishlist.

My Account | Use Points | About the Program | Contact Us
© 2020 RewardsNOW, Inc. All rights reserved.