Product Details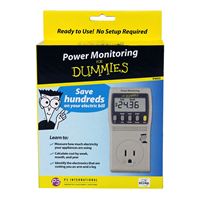 P3 International Power Monitoring for Dummies
(PRE-D-P4455)
11,040 Points
Anyone can cut electricity costs and find out what appliances are worth keeping with the Power Monitoring for Dummies device. Simply connect an appliance to the meter and find out the daily, weekly, monthly or yearly cost. The unit measures consumption by the kilowatt hour (kWh), just like your local utility company, to help you figure out how efficient each appliance or electronic actually is while also monitoring the quality of the voltage. Now you can decide if it''s finally time to get that new, energy efficient refrigerator you''ve been eyeing or if your old air conditioner is the heavy power user you thought it was. With Power Monitoring For Dummies, the power is in your hands. Merchandise usually ships within 10 business days of order.
Please log in to add this item to your shopping cart or wishlist.

My Account | Use Points | About the Program | Contact Us
© 2020 RewardsNOW, Inc. All rights reserved.