Product Details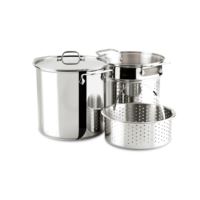 All-Clad Multi Cooker
(PRE-D-59912)
29,174 Points
All Clad 12 quart Multi-Cooker w/Lid. Stainless/Aluminum Disc Bottom Crafted from high-quality 18/10 stainless steel, & a thick stainless/aluminum disk at the bottom. The exterior metal is satin-finish stainless steel, and the interior is easy-to-clean, highly polished stainless steel. For limitless stove-top cooking options, the versatile multi-cooker features a large stainless steel colander insert, along with a large capacity stainless steel steamer basket. Ideal choice for stove-top cooking, such as boiling, steaming. Merchandise usually ships within 10 business days of order.
Please log in to add this item to your shopping cart or wishlist.

My Account | Use Points | About the Program | Contact Us
© 2019 RewardsNOW, Inc. All rights reserved.