Product Details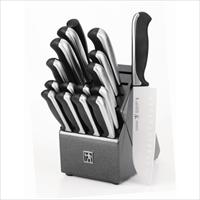 J.A. Henckels International Fine Edge Synergy 17 pc Block
(PRE-D-15707-000)
20,411 Points
Fine Edge Synergy knives are constructed of stamped German stainless steel with hand-honed blades that can be resharpened (unlike the company's Everedge knives that have identical handles but micro-serrated edges). The molded handles are quite comfortable and resist breakage, and full-tang blades slice and chop with ease. Made in China, the cutlery is dishwasher-safe yet best washed and dried by hand. A lifetime warranty applies.

What's in the Box
2-3/4-inch paring knife; 6-inch utility knife; 5-1/2-inch boning knife; 8-inch chef''s knife; 8-inch carving knife; 8-inch bread knife; 7-inch Santoku; 9-inch steel; eight 4-1/2-inch steak knives; black storage block can accommodate up to 20 knives.

Merchandise usually ships within 10 business days of order.
Please log in to add this item to your shopping cart or wishlist.

My Account | Use Points | About the Program | Contact Us
© 2019 RewardsNOW, Inc. All rights reserved.