Product Details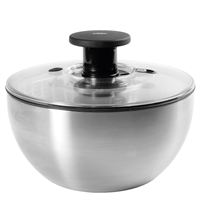 Oxo Steel Salad Spinner
(PRE-OXO-1071497)
8,227 Points
The OXO SteeL Salad Spinner combines the ultimate function of our patented pump and brake with the elegance of a stainless steel serving bowl. Simply press the soft pump to start the basket spinning. Press the brake button and the basket comes to a stop for easy unloading. A clear lid lets you peek inside while you spin your salad, and the lid comes apart for easy cleaning. A non-slip base keeps the elegant stainless steel bowl steady on the countertop and the basket and bowl can be used separately. Basket capacity is 4.95 quarts. Merchandise usually ships within one week of order.
Please log in to add this item to your shopping cart or wishlist.

My Account | Use Points | About the Program | Contact Us
© 2019 RewardsNOW, Inc. All rights reserved.