Product Details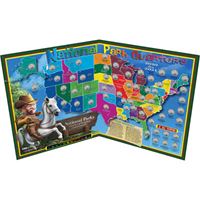 National Park Tour Qtr Map
(PRE-D-L517)
6,321 Points
Display your National Park Series quarters with this colorful 16.5" x 26" map. A wonderful rendering of President Teddy Roosevelt on horseback is the highlight of this unique collect-your-own-coin map. Each map is made with collectors in mind with extra thick board and recessed coin slots to protect your quarters and prevent scratching. Map has slots for all 56 coins being released from 2010 through 2021. Merchandise usually ships within 10 business days of order.
Please log in to add this item to your shopping cart or wishlist.

My Account | Use Points | About the Program | Contact Us
© 2020 RewardsNOW, Inc. All rights reserved.