Product Details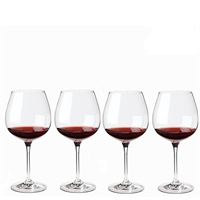 Wine Enthusiast Fusion Classic Pinot Noir Wine Glasses Set of 4
(PRE-D-7040104)
12,459 Points
The world's most break-resistant wine glasses! Super-strong, lightweight magnesium is fused with brilliant European crystal to form the most durable wine glasses in the world.

Fusion stemware withstands the wear and tear of everyday use and never dulls or clouds. Varietal-specific, Fusion stems are scientifically shaped to enhance the best qualities of your wine. Lead-free and machine-made. Dishwasher safe. Ten-Year Limited Warranty in the unlikely event your Wine Enthusiast Fusion Glass breaks, we''ll replace it FREE, even up to 10 years after purchase! Set of 4 wine glasses.

Dimensions: 8-5/8" H, 3" D, Weight: 20 oz.Merchandise usually ships within 10 business days of order.
Please log in to add this item to your shopping cart or wishlist.

My Account | Use Points | About the Program | Contact Us
© 2019 RewardsNOW, Inc. All rights reserved.