Product Details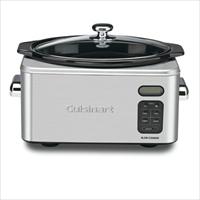 Cuisinart 6.4 Quart Programmable Slow Cooker
(PRE-PSC-650)
22,890 Points
Programmable technology makes homemade meals easier than ever! This family-Sized Cuisinart Slow Cooker features 24-hour programmable cook time; and a digital countdown timer, three cooking modes. It automatically shifts to Keep Warm when cooking is done to ensure that up to 6 ½ quarts of your favorite family entrees, sides, or desserts are warm, ready and waiting to enjoy.
Feature:
Touchpad control panel with LCD timer display,
24-hour cooking timer,
Off/On, Warm, Simmer, Low, and High settings,
Removable 6.5-quart, oval ceramic cooking pot,
Automatically shifts to "Warm" when cook time ends,
Brushed stainless steel housing with chrome-plated handles,
Glass lid with stainless steel rim and chrome-plated knob,
Dishwasher-safe lid and ceramic pot,
Nonslip rubber feet.
Merchandise usually ships within one week of order.
Please log in to add this item to your shopping cart or wishlist.

My Account | Use Points | About the Program | Contact Us
© 2020 RewardsNOW, Inc. All rights reserved.