Product Details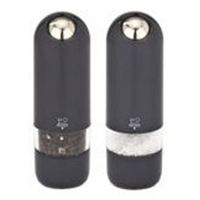 Peugeot Alaska Quartz Salt and Pepper Set
(PRE-D-228503)
20,295 Points
With a resolutely modern design, this mill combines fun and vintage style with its curvy shape and round button. It boasts an out of the ordinary appearance, combining polycarbonate and acrylic to produce a harmonious overall effect. Its ergonomic form will delight chefs, who can use it in just one hand whilst cooking with the other. On the bottom, a light helps to see how much salt or pepper you add. It has a practical side too, the transparent container shows how full it is. Comes with six batteries and a spare bulb. Merchandise usually ships within 10 business days of order.
Please log in to add this item to your shopping cart or wishlist.

My Account | Use Points | About the Program | Contact Us
© 2019 RewardsNOW, Inc. All rights reserved.