Product Details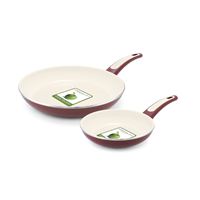 The Cookware Company GreenPan 7" and 10" Open Frypan Focus Burgundy Aluminum
(PRE-D-CW000683-002)
9,321 Points
The GreenPan Focus 7" and 10" open frypan set has aluminum bodies with stay cool Bakelite handles, both in bold burgundy. Complete with Thermolon healthy ceramic non-stick coating. Manufactured without PFOA and heat resistant up to 850oF, Thermolon is easy to clean and requires less oils and fats when cooking.Merchandise usually ships within 10 business days of order.
Please log in to add this item to your shopping cart or wishlist.

My Account | Use Points | About the Program | Contact Us
© 2019 RewardsNOW, Inc. All rights reserved.