Product Details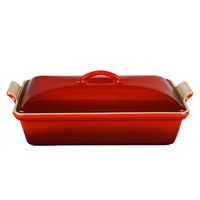 Le Creuset Heritage 4 Qt. Covered Stoneware Rectangular Casserole Cherry
(PRE-D-PG07053A3367)
20,693 Points
Secure stoneware lid with a traditional loop handle. Impermeable finish. Safe for cutting on with knives. Thermal resistance from -65F to 500F. Less than 1% porosity. Resistant to staining and flavor/odor absorption. Virtually nonstick glazed interior. Merchandise usually ships within 10 business days of order.
Please log in to add this item to your shopping cart or wishlist.

My Account | Use Points | About the Program | Contact Us
© 2019 RewardsNOW, Inc. All rights reserved.