Product Details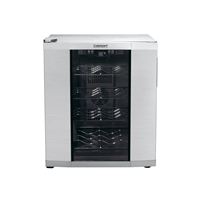 Cuisinart 16 Bottle Private Reserve Wine Cellar
(PRE-CWC-1600)
44,018 Points
A well-kept wine is a happy wine! The Cuisinart® Private Reserve® Wine Cellar ensures up to sixteen bottles of wine are kept at the ideal temperature while maintaining their signature bouquet, flavor and body. Use the touchpad to electronically set your preferred temperature (between 39°-68°F). The thermoelectric cooling system holds the temp, quietly and efficiently, while the attractive stainless finish ensures wine collections are displayed in style. - See more at: http://www.cuisinart.com/products/wine/cwc-1600.htmlsthash.eCOHTVvR.dpuf Merchandise usually ships within one week of order.
Please log in to add this item to your shopping cart or wishlist.

My Account | Use Points | About the Program | Contact Us
© 2020 RewardsNOW, Inc. All rights reserved.